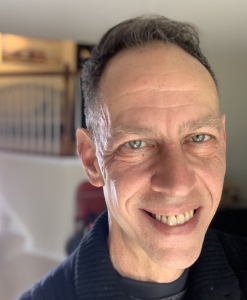 Two-time Emmy® winner Hal Goodtree started Chatham Street Records to pursue his lifelong passion for music. He has worked with stars on both sides of the camera including James Earl Jones, Cindy Crawford, Daniel Lanois and Cissy Houston.
Associations:
• Director Guild of America
• National Academy of Television Arts and Sciences
• American Society of Composers and Publishers
Producer / Artist-in-Residence
Michael Pelz-Sherman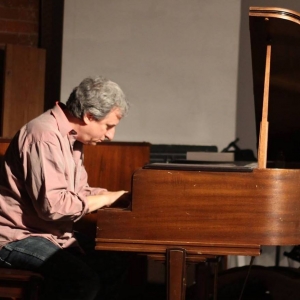 Michael Pelz-Sherman earned his PhD in Music at the University of California. He has played for the North Carolina Ballet, the North Carolina Museum of Art and the North Carolina Jazz Ensemble. He appears regularly at area clubs including the Empress Room, C Grace and the Lincoln Theater.
Michael's musicality and depth of experience make him an invaluable part of the sound at Chatham Street. He appears on almost every track as a studio musician, adding a composer's sensibility and a jazz player's chops.
Associations: BMI
Hal Goodtree
Wade Carmichael
Lou Goodtree
Since forever, records labels have been the barrier, the gate keeper, preventing musicians from being part of the global music business.
Times have changed. You don't need a million dollars to build a studio. Grammy® winners are recording albums in their bedrooms. So we started a record company to serve local artists of unique talent who have been shut out by old-school labels.
What Does It Cost? Share and Share Alike
We value the contributions of everyone to our music production at Chatham Street Records. That includes all the musicians, but also the engineer and producer. No one gets a draw, an advance or a bag of gold to entice them to sell out their rights.
If a song does well, we all profit. If a song doesn't break the internet, we make another song.
Who Does What?
Artists provide their time and their talent. Chatham Street provides recording, mixing, mastering and distribution. We also provide song artwork, credits, lyrics and pitch new songs to Spotify editors.
Official Profiles
All Chatham Street artists have Official or Verified profiles on music services including Apple, Spotify and YouTube.
Distribution
We release new recordings via DistroKid to more than 46 streaming services including Amazon Music, Apple Music, Pandora, Spotify and YouTube.
All our songs have the necessary metadata for royalty collection and rights protection, including an ISRC, ISWC and UPC codes. And, we pay for an embedded tracking code and Shazam recognition.
Getting Paid
Recording artists and studio musicians can directly monitor and collect their royalties via DistroKid. Prior to release, all personnel on a track sign a split sheet to divide recording royalties. Generally, we divide the "recording points" evenly among the participants.
For songwriters, we have a publishing arm, Parkhurst Place Publishing, and help our artists become members of ASCAP or BMI so they can collect their publishing splits on every recording of their music.
Marketing Support
Chatham Street publicizes all our releases across all of social media channels. We expect our artists to do the same. We also work hard to develop our network of influencers and others whose opinions we value.
And, make videos to support our artists, leaning into our expertise in filmmaking and television production.
What Kind of Music Do We Like?
Roots, blues, soul, folk rock, funk, chillwave, singer-songwriter. Basically: good voices, good players and an authentic sensibility. Preference for North Carolina based artists.
If you are rock-blocked by OG record companies and dig our fair equity model, send us some links to your music.